Rational CombiMaster
The world's no. 1 - in cooking expertise and state of the art technology

With the invention of the Combi-Steamer in 1976 Rational revolutionised the catering industry. For proof just consider the fact that over 240,000 Rational Combi-Steamers are in daily use all over the world. Today virtually every second unit installed is made by Rational.
Rational is the chefs' company and for 30 years has deployed the largest development team in the market, comprising chefs, nutritionists, physicists and engineers. Over 170 patents and patent applications represent lasting innovative strength. Rational technology stands for outstanding quality and durability, maximum diversity of use, and above all, simple operational application.
Rational CombiMaster - Limitless culinary variety
With the CombiMaster you can relax in the knowledge that the demanding daily cooking routine is under control. With 5 cooking modes - Hot Air, Steam, Combination, Vario-Steam and Finishing - the limitless culinary variety of the Rational CombiMaster is at your disposal. Baking, roasting, grilling, steaming, braising, blanching, poaching and much more, all in a single unit.
The CombiMaster replaces or relegates to minimal floor space 40-50% of all conventional cooking appliances such as hot air ovens, stoves, boiling pans, steamers, and deep fryers. The CombiMaster cooks up to 15% faster than conventional Combi-Steamers, saving you both time and money.
There is no taste transfer, even when widely differing products are loaded at the same time. Vitamins, minerals and nutrients are conserved. Outstanding, consistently high food quality inspires confidence day after day.
Five cooking modes selected using only one knob
Moist Heat at 100°C - Moist heat mode is ideal for blanching, boiling, steaming, simmering and soaking. The powerful fresh steam generator consistently produces hygienic fresh steam - and with extremely short heating up times. The constant cooking cabinet temperature and maximum possible steam saturation ensure an even, very gentle cooking process, thus guaranteeing appetising colour, firm bite and the conservation of important nutrients. There is absolutely no taste transfer, even when widely differing products are loaded at the same time.
Dry Heat 30°C - 300°C - Dry heat is best suited to roasting, grilling, gratinating or baking. You can cook tender fillets, crispy cutlets and even light bakery products with an evenness which sets new standards. At the same time the temperature range up to 300°C gives you the necessary reserve power, particularly for the preparation of frozen convenience foods.
Combination 30°C - 300°C - The combination of Moist Heat and Dry Heat prevents food drying out, minimises cooking shrinkage and at the same time ensures even browning. You can get up to 50% less cooking shrinkage compared with traditional cooking methods, with considerably shorter cooking times. You use the combination of Moist Heat and Dry Heat for roasting, stewing, braising and glazing. Even dense-textured vegetables like carrots can be force-steamed at 130°C.
Vario-Steam 30°C - 99°C - Gentle cooking below 100°C with maximum steam saturation. Effortlessly successful, even for large quantities of extremely sensitive foods such as crème caramel, vegetable flans, delicate fish or mousselines. The cabinet temperature is maintained to within one degree accuracy, important for perfect food quality, excellent consistency, and for conserving the intrinsic taste of the food. Vario-Steam is the cooking mode for poaching, simmering, scalding and even vacuum cooking.
Finishing Function - Today it is standard practice to keep food warm. This frequently leads to loss of quality, with unwanted cell fusion being the inevitable consequence. Finishing with the CombiMaster does away once and for all with the need to keep food hot. Finishing allows you to prepare food to perfection in a relaxed, stress free atmosphere - whether it's 1, 5, 20 or several thousand meals. You start with the mise en place of all the requisite products whenever you have the time. Shortly before serving Finishing finishes the food off to your requirements.
Core temperature probe - Spot on cooking. Using the core temperature probe eliminates overcooking, significantly reducing shrinkage. The CombiMaster switches off automatically after reaching the core temperature.
Cool down - The cool down function ensures fast, gentle cooling of the cooking cabinet.
Additional functions
Cool down - rapid cabinet cooling
Manual cleaning program
SelfClean-Automatic for steam generator
Demand-responsive energy supply
Automatic vapour quenching system
ServiceDiagnose System (SDS)
Temperature unit adjustable in °C or °F
Descaling program

For the following accessories please contact us for further details :

Stands
Base Cabinets
Thermocabinets
UltraVent condensation hoods
Mobile plate racks
Thermocovers
Mobile Oven Racks
Run in rails
Transport trolleys
Floor fastenings
Condensation breakers
Unit connection kits
Lamb & suckling pig spits
Grills / Meat & Baking grid shelves
Heat shields
Banquet finishing systems
Containers / grids etc.
Care products

Rational CombiLink Accessories

Combi-Duo stacking installation kits

Installation & Site Survey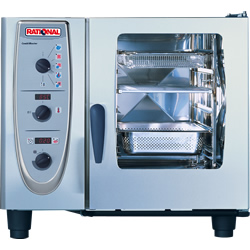 Rational CombiMaster 61
CM61 Electric Combi Oven
6 x 1/1GN
847mm x 771mm x 757mm
Electrical Loading 10kW - 400V 3N
3 x 16A


for current pricing see our new website with online purchase facility - link at top of page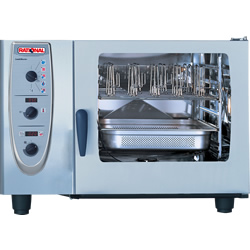 Rational CombiMaster 62
CM62 Electric Combi Oven
6 x 2/1GN
1069mm x 971mm x 757mm
Electrical Loading 21kW - 400V 3N
3 x 32A

for current pricing see our new website with online purchase facility - link at top of page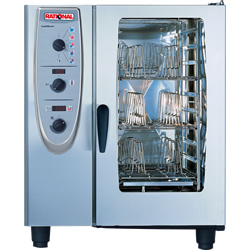 Rational CombiMaster 101
CM101 Electric Combi Oven
10 x 1/1GN
847mm x 771mm x 971mm
Electrical Loading 19kW - 400V 3N
3 x 32A

for current pricing see our new website with online purchase facility - link at top of page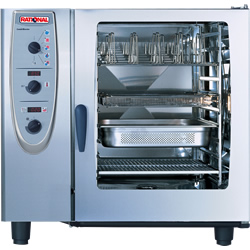 Rational CombiMaster 102
CM102 Electric Combi Oven
10 x 2/1GN
1069mm x 971mm x 971mm
Electrical Loading 37kW - 400V 3N
3 x 63A

for current pricing see our new website with online purchase facility - link at top of page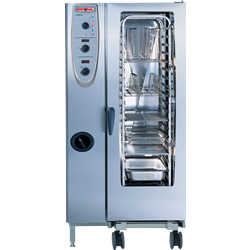 Rational CombiMaster 201
CM201 Electric Combi Oven
20 x 1/1GN
879mm x 791mm x 1782mm
Electrical Loading 37kW - 400V 3N
3 x 64A

for current pricing see our new website with online purchase facility - link at top of page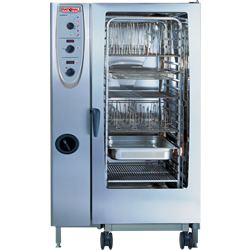 Rational CombiMaster 202
CM202 Electric Combi Oven
20 x 2/1GN
1084mm x 996mm x 1782mm
Electrical Loading 62kW - 400V 3N
3 x 100A

for current pricing see our new website with online purchase facility - link at top of page